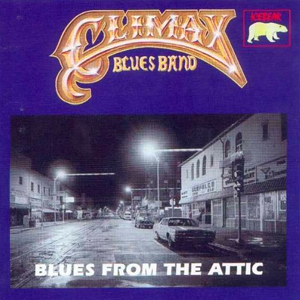 1. Fool For The Bright Lights
2. Chasin Change
3. Don't Start Me Talking
4. Take Me Back To Georgia
5. So Many Roads
6. The Seventh Son
7. The Last Chance Saloon
8. The Movie Queen
9. Towards The Sun
10. Couldn't Get It Right
11. Evil
12. Going To New York/Money
13. Let's Work Together
14. Let The Good Times Roll
Blues From the Attic
Recorded live at The Attic Bar, Stafford , England in 1993.
Originally released on HTD then Houndog Records.
Blues From the Attic is a stunning live album which once again demonstrated that Climax Blues Band have always been bigger than the sum of their parts. Honed musicianship and years of touring had clearly paid off. Colin was obviously more comfortable musically with his blues roots and its evident on this release. The album, originally a double CD showcased songs from when the band first formed as well a later notable blues creations. The digital release featured in the US I-tunes blues charts.
Produced by Climax Blues Band.
Engineered by Chas Watkins.