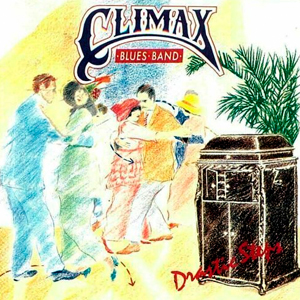 1. California Sunshine
2. Lonely Avenue
3. The Deceiver
4. Ordinary People
5. The Winner
6. Couldn't Get It Right
7. Fool For The Bright Lights
8. Good Times
9. Trouble
10. American Dream
11. Coudn't Get It Right (Extended 88′ Mix)
Drastic Steps
Recorded at Synergy recording studios in Stoke on Trent, UK In 1988
Originally released on Musicolor
Drastic Steps was recorded in the UK and demonstrated the early writing partnership of George Glover and Colin Cooper. Whilst having an 80's feel the album slowly slides back into a blues/rock vibe that was the Climax sound, 'Fool for the Bright Lights' demonstrating that the blues was still alive and well. Lester Hunt slides into the lead guitar role on 'Drastic Steps' and produces scintillating effortless musicianship.
The re-release of 'Couldn't Get it Right' automatically became record of the week on BBC Radio 1. It also featured Ruby Turner (and Mo Birch) on backing vocals just prior to her becoming a vocal legend in her own right.
Produced by Climax Blues Band.
Engineered by Lester Hunt.