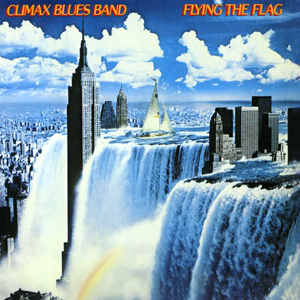 1. Gotta Have More Love
2. So Good After Midnight
3. Horizontalized
4. I Love You
5. Hold On To Your Heart
6. Dance The Night Away
7. Money Talkin'
8. Blackjack And Me
9. Nothing But Starlight
10. One For Me And You
Flying the Flag
Recorded at Sound City Studios, Los Angeles, California in 1980.
Originally released on Warner Brothers.
Another Billboard top 100 album which contained the two hits. The world wide best seller  'I Love You' (number 12) and 'Gotta Have More Love' (number 47). This album also featured Nicky Hopkins on piano who has played with such notable bands as The Kinks, The Who, The Rolling Stones, Jeff Beck, The Beatles, Cheech and Chong, Joe Cocker, Eric Clapton, Jerry Garcia, Alexis Korner, Izzy Stradlin and Joe Satriani.
Produced by John Ryan.
Engineered by Climax Blues Band.
The artwork for the album was by Tsunehisa Kimura. The same art was used by Cut Copy for their 2011 release Zonoscope.