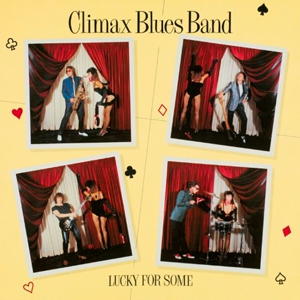 1. Victim
2. Cuttin' up Rough
3. Shake It Lucy
4. Oceans Apart
5. Breakdown
6. Darlin'
7. This Time You're the Singer
8. Last Chance Saloon
9. They'd Never Believe Us
Lucky for Some
Recorded in Los Angeles In 1981.
Originally released on Warner Brothers.
The blues element within the band on 'Lucky For Some' waned and the album had an 80's soft rock feel.  The need to have another hit in the realms of 'I Love You' becomes apparent throughout the album. 'Cuttin up Rough' and 'Last Chance Saloon' helped retain the Climax sound of old.
Produced by John Ryan.
Engineered by Climax Blues Band.